Puppies (updated May, 2023)
Fanny and Barrabas' litter has been confirmed!
Our application process and waiting list are now open for Fanny & Barrabas' litter. You may contact us via email to request an application.
They will be a litter of medium F1 Australian Goldendoodles. Please see our GOLDENDOODLES page for a description of F1 Australian Goldendoodles. To learn more about Fanny and Barrabas please see our PARENT DOGS page. The pups should be shades of light to dark apricot. They will all have wavy coats. Their adult weight should be between about 30 and 45 pounds, averaging about 38 pounds. If you are interested in this litter, be sure that any size within the expected range will be acceptable for you. We can't guarantee size, but based on other litters we believe the size will be within this range. They are due in early June, and will be ready to go home within a day or two of July 30. Their date to go home is firm. They should grow to be sweet, intuitive and very loving dogs.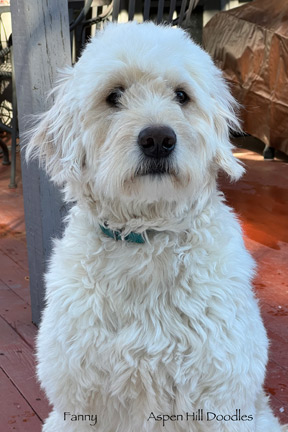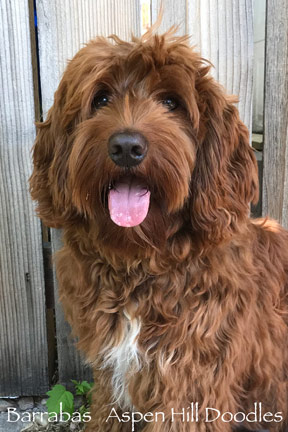 We have limited the placement of this litter to homes within easy driving distance of the Denver Metro area.
The puppies from Aspen Hill Doodles are remarkable. Their parents are carefully screened for their health and temperament. Pups receive extensive socialization from the moment they're born until the time they go to their new homes. We make sure they have varied experiences including gentle handling, rides in the car, interacting with friendly older dogs, being exposed to novel situations and meeting a variety of people. You can see some of these experiences as you scroll down through the photos on this page.
---
We open up our application process and waiting lists only when we're sure we'll have pups available. Our applications are only available when our process is open. We always give at least a week's notice before opening up the application process for a particular litter. We don't have a notification system set up for litters, but keep information current on this page.
If you'd like to have one of our pups, we recommend watching this page for updates, and when you see a litter coming that you like, contact us when we open up the application process. Our litters are in high demand, we usually limit their placement to the Denver metro area, here in Colorado.
Please do not request that we notify you, or contact you with updates. We are not set up to do this.
********************************************************************************************
We provide an extensive health guarantee and warrantee.
Our puppies are carefully placed primarily as companion animals. We require that they are surgically spayed or neutered before they reach six months of age. If they go to homes outside of the Denver metro area, we do early spay/neuter before they leave us.
We do not ship.
Our visitors policy is described on our VISITORS page.
We reserve the right to cancel any sale and refund any monies paid at any time for any reason.
Click on the button below to review our health guarantee

---
Video clips below are of an Aspen Hill Doodle pup, excelling at agility!
This is 1 year old Riley at her first agility trial, where she won first place in her group! Rio & Sawyer are her parents. If you follow Rio and Sawyer's family lines (via the PARENT DOGS page), you'll see that Riley is related to most of our Aspen Hill Doodle Family. Thank you Lori for sharing your video!
Here's our same Riley at 3-1/2, two and a half years later than the first video clip. Now she is competing at top levels, and winning! Here she took first place! She is a favorite at the agility trials! Thanks Lori for the amazing training you've done and for sharing your videos!
---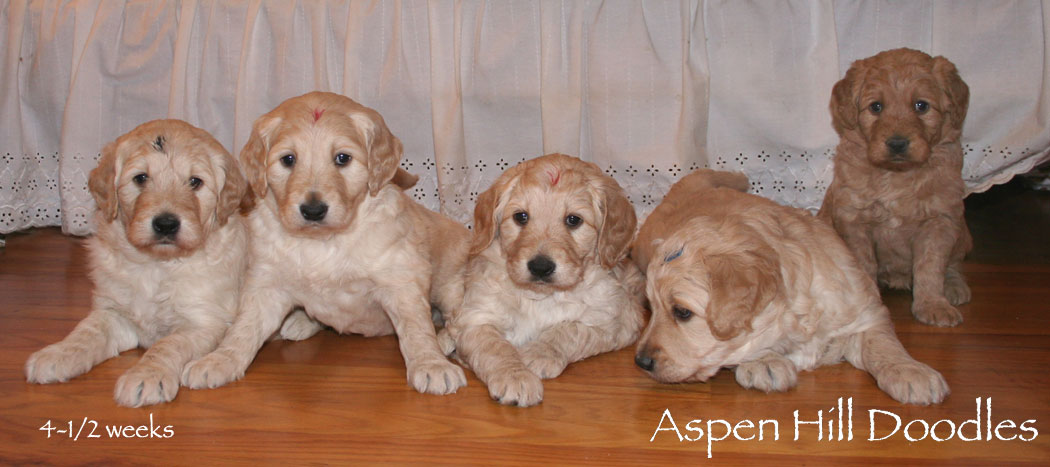 This is Penny's F1 litter from 2005. That's Gucci on the far right (her daddy is Tino).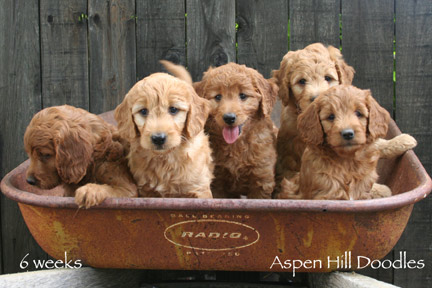 Here's a photo of Luna and Tino's medium F1 2007 litter. That's Lulu on the far left.
---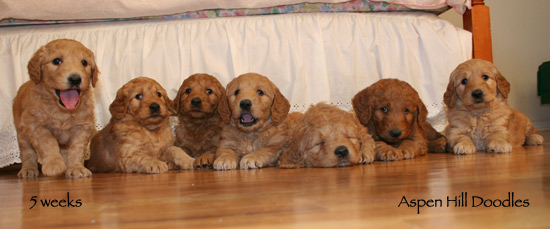 This is Luna and Strawberry's standard F1 2008 Litter, that's Bindi on the far right!
---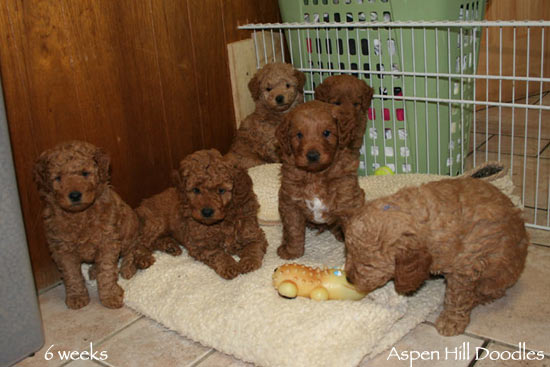 Pups from Gucci and Ximo's mini F1B 2008 litter, that's Botza second on the left!
---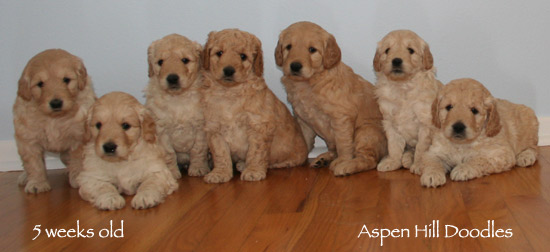 Pups from Deja and Cloudy's medium F1 2009 litter. That's Gracie on the far right.
---
This is Gucci and Strawberry's medium F1B 2009 Litter
---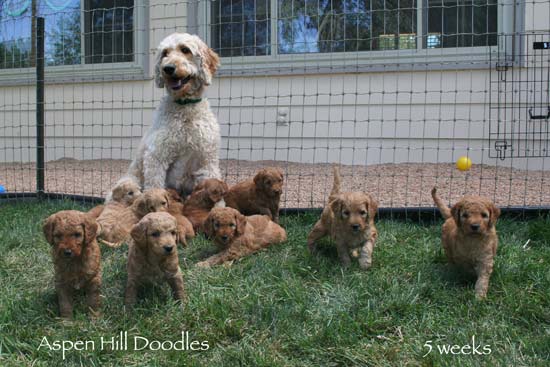 This is Bindi and Tino's medium F1B 2010 Litter. That's Naiya the darker pup, leaning on Bindi's front leg.
---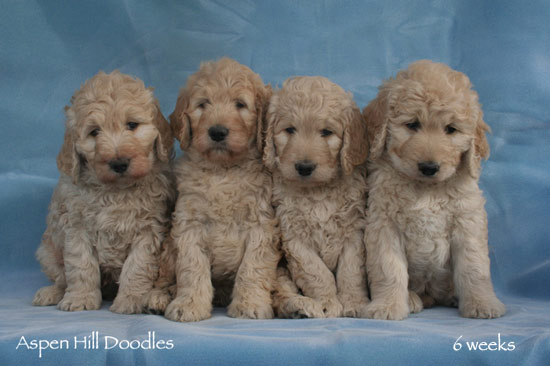 This is April's 2011 standard F1Litter sired by a standard poodle. That's Phoebe on the far right!
---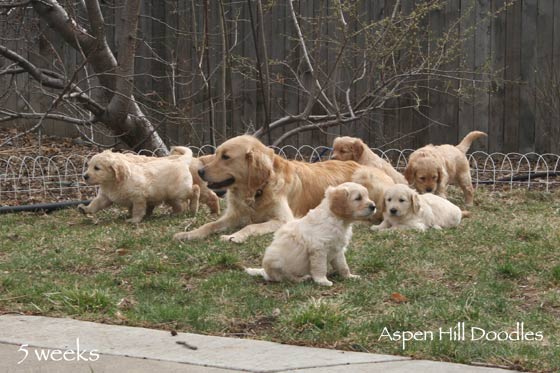 This is Hallie's February 2012 standard F1 Litter sired by Jasper. That's Sunshine lying down next to Hallie!
---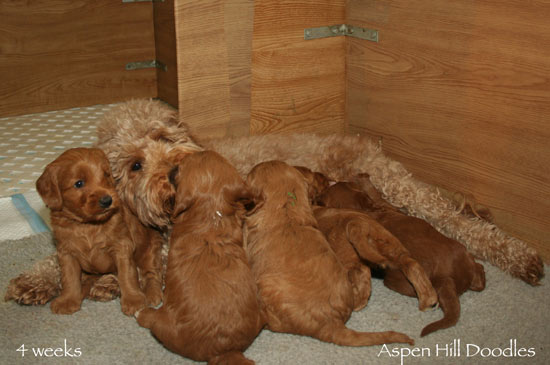 This is Naiya's mini F1 Australian Goldendoodle litter in 2013. The father is an Australian Labradoodle. That's Casey Bear on the far left, facing the camera.
---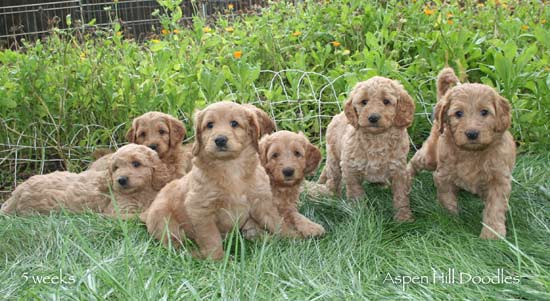 This is Sunshine & Milo's medium F1B Goldendoodle litter born during the summer of 2013. That's Kyle on the far right and Kaya next to him.
---
This is Hallie and Botza's medium F1 Goldendoodle Retriever litter born in October, 2013. That's Rio with the red dot on her head, towards the left, center. She was dark apricot as a puppy!
---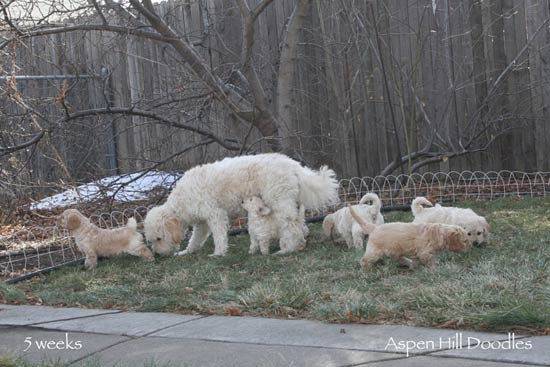 This is Gracie's winter, 2013 mini/medium F1B litter. The father is a small standard poodle. That's Sawyer on the far left.
---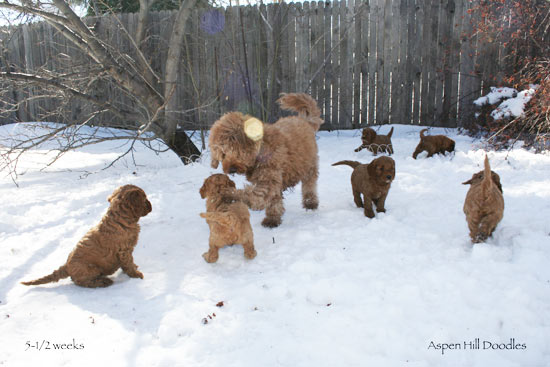 This is Naiya's mini F1 Australian Goldendoodle litter in 2014. The father is an Australian Labradoodle. That's Rusty, just to the right of Naiya, facing forward.
---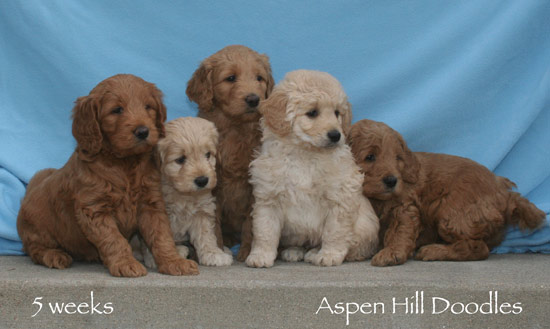 This is Allie's 2014 F1 Goldendoodle Retriever litter. That's Granby second from the left. Her father is Botza.
---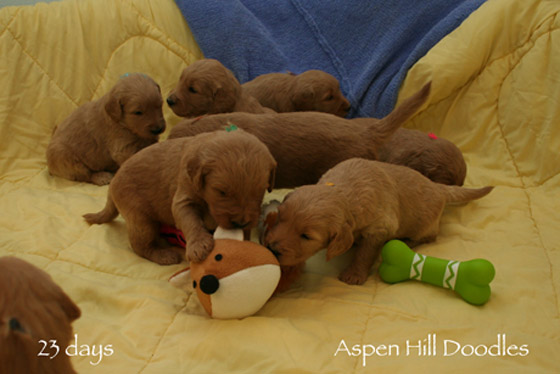 This is Allie and Waffles' 2015 Standard F1 Goldendoodle litter. That's Emma hidden on the right with the bright pink spot on her head.
---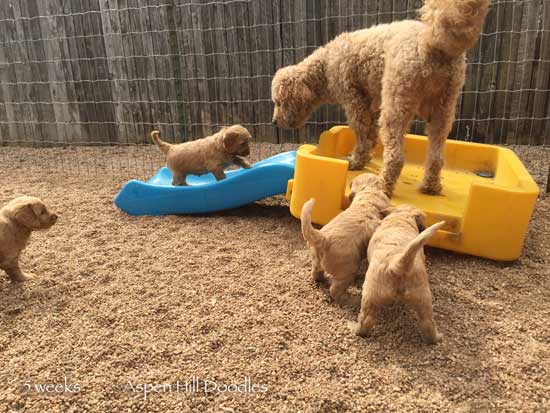 This is Kaya and Rusty's 2016 Miniature F2 Australian Goldendoodle litter. That's Mango learning to go up the slide.
---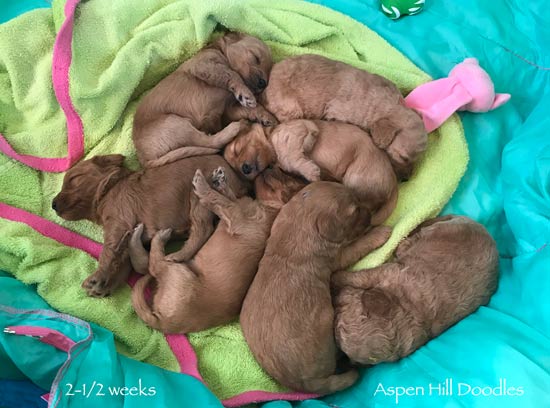 This is Mango and Yoda's 2018 Miniature F1B Australian Goldendoodle litter. That's Winnie up at the top left with her back foot on her brother's head!
---
This is Emma and Kyle's 2018 Medium and Standard F2B Goldendoodle litter. That's Hazel Moonlight towards the middle, the dark red pup!
---
This is Mango's 2018 litter of F1B Australian Goldendoodles. The father is an Australian Labradoodle. That's Winston on the far left at the beginning of the clip, wagging his tail! The light colored pup.
---
This is Koda and Sawyer's 2019 F1 Goldendoodle Retriever litter. Fanny is in the mix, she has a purple/lavendar mark on the back of her head. They are playing with our long-time puppy socializer and grandma to many pups "Naiya"
---
This is Stella and Barrabas' 2019 F1 Australian Goldendoodle litter. Kona is the pup with the purple mark on her head.
---
Puppies are available on a limited basis.
We will update availability of litters on this page.