Puppies (updated September, 2015)
Allie and Waffles' Standard F1 litter has arrived. There is information about F1 Goldendoodles on our GOLDENDOODLES page. There is information about Allie and Waffles on our PARENT DOGS page. The pups will be ready to go home in early October. The pups should mature to about 60 pounds and should be shades of apricot and possibly gold. This should be an outstanding litter, playful, beautiful and smart!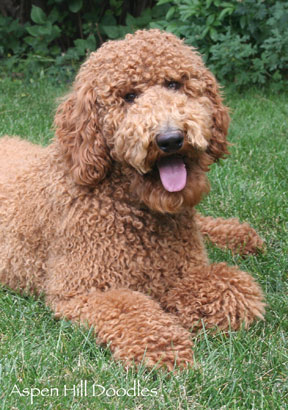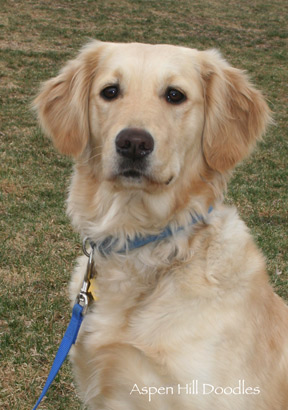 Waffles Allie
Our waiting list is full for this litter, and our application process is closed.
If plans change, and we have more availability in the litter, we'll reopen the application process. If that is the case, we'll make an announcement at least one day in advance, on this page.
********************************************************************************************
We open up our application process and waiting lists only when we'll have available pups. Our applications are only available when our process is open. We always give at least a week's notice before opening up the application process for a particular litter. We don't have a notification system set up for litters, but keep information current on this page.
********************************************************************************************
We provide an extensive health guarantee and warrantee.
Our puppies are carefully placed primarily as companion animals. We require that they are surgically spayed or neutered before they reach six months of age. If they go to homes outside of the Denver metro area, we do early spay/neuter before they leave us.
We do not ship.
Our visitors policy is described on our VISITORS page.
We reserve the right to cancel any sale and refund any monies paid at any time for any reason.
Click on the button below to review our health guarantee

---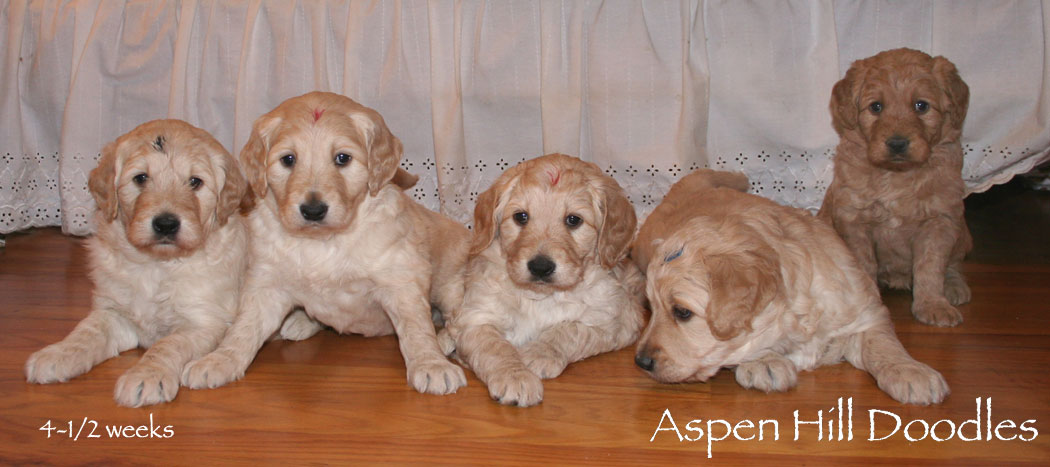 This is Penny's F1 litter from 2005. That's Gucci on the far right (her daddy is Tino).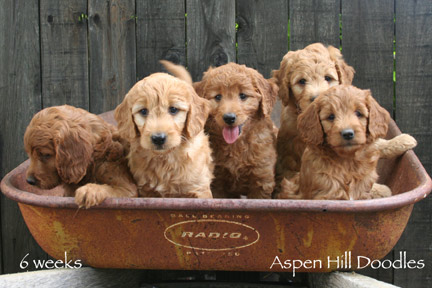 Here's a photo of Luna and Tino's medium F1 2007 litter. That's Lulu on the far left.
---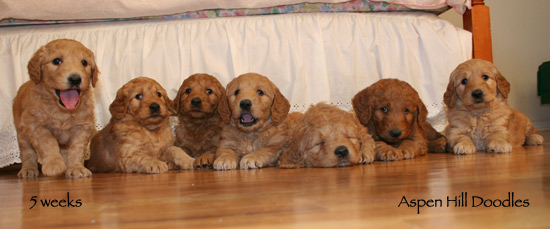 This is Luna and Strawberry's standard F1 2008 Litter, that's Bindi on the far right!
---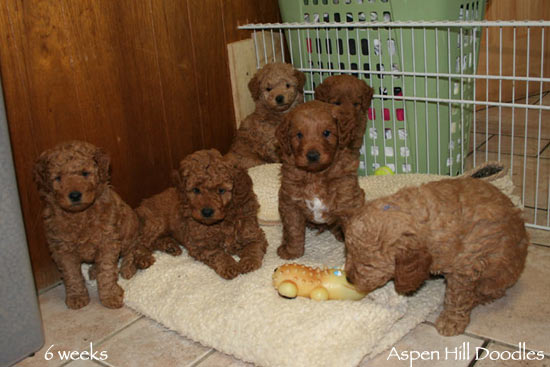 Pups from Gucci and Ximo's mini F1B 2008 litter, that's Botza second on the left!
---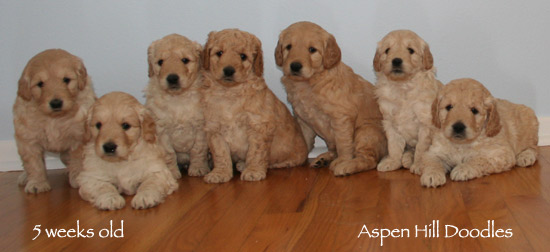 Pups from Deja and Cloudy's medium F1 2009 litter. That's Gracie on the far right.
---
This is Gucci and Strawberry's medium F1B 2009 Litter
---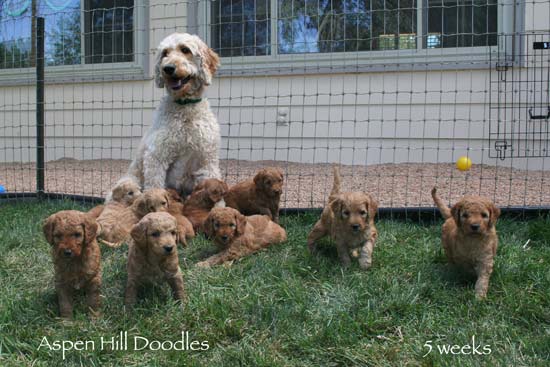 This is Bindi and Tino's medium F1B 2010 Litter. That's Naiya the darker pup, leaning on Bindi's front leg.
---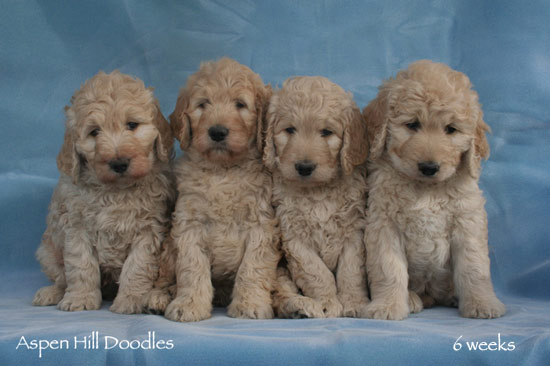 This is April's 2011 standard F1Litter sired by a standard poodle. That's Phoebe on the far right!
---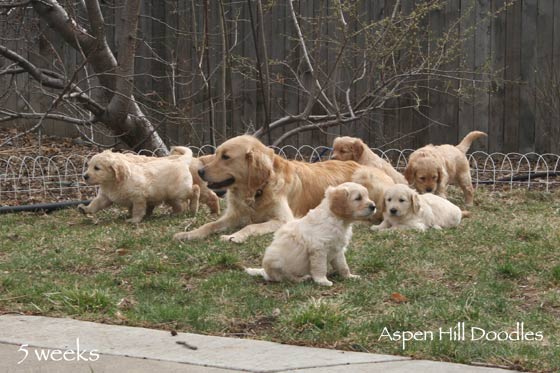 This is Hallie's February 2012 standard F1 Litter sired by a standard poodle. That's Sunshine lying down next to Hallie!
---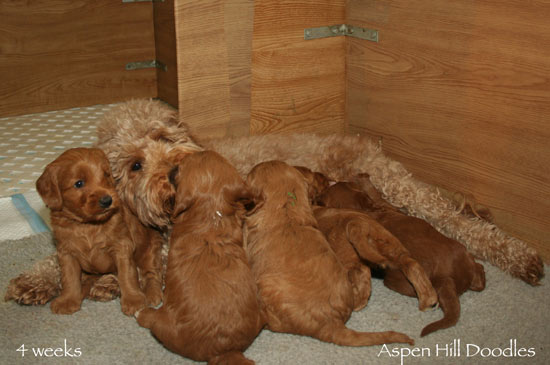 This is Naiya's mini F1 Australian Goldendoodle litter born in early 2013. The father is an Australian Labradoodle. That's Casey Bear on the far left, facing the camera.
---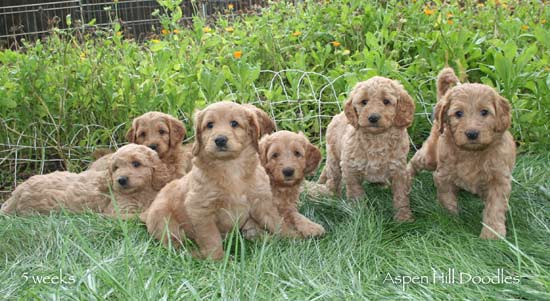 This is Sunshine & Milo's medium F1B Goldendoodle litter born in 2013. That's Kyle on the far right and Kaya next to him.
---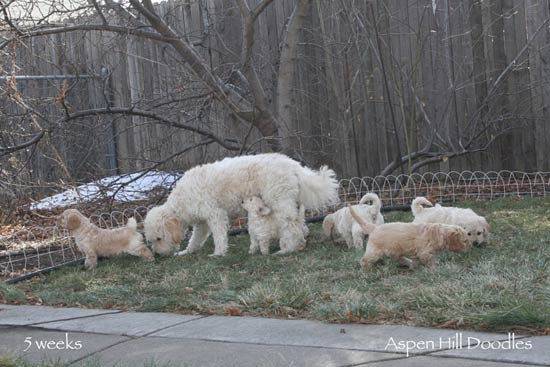 This is Gracie's 2013 mini/medium F1B litter. The father is a small standard poodle. That's Sawyer on the far left.
---
Puppies are available on a limited basis.
We will update availability of litters on this page.